During a recent stream on Twitch, eight-time NBA All-Star Kyrie Irving made it clear that he wasn't happy with how the public is perceiving him following his recent controversies.
Irving also addressed the idea that he has created problems in the locker room throughout his NBA career.
«I'm not a cancer,» Irving said in the Twitch video.
The crux of Irving's argument seemed to hinge on the idea that people have judged him based on the few hours they get to see him perform at games.
CLICK HERE FOR MORE SPORTS COVERAGE ON FOXNEWS.COM
«You watch me for three hours and you think you know who I am. You see some posts. 'Oh, Ky's awake, Ky got it. Oh, Ky is, oh my God. He just doesn't fit the mold of all people. He's different, he's crazy, he's arrogant, he's this, he's that.'
«All for seeing me for three hours. You get all of that.»
KEVIN DURANT 'DISAPPOINTED' COULD NOT FINISH SEASON WITH KYRIE IRVING, 'CAN'T BLAME HIM' OVER TRADE REQUEST
His comments came after the Mavericks lost 113-106 and Irving appeared to argue with a fan during the game because the guard shared an anti-Semitic film.
Irving served an eight-game suspension while with the Nets after posting a link to the movie. As controversy over the social media post grew, Nike parted ways with Irving.
He also addressed speculation surrounding his departures from the Cavaliers, Celtics and Nets.
«'What is Ky going to do this summer? Does Ky like Dallas? What happened in Brooklyn? What happened in Boston? What happened in Cleveland? Why did you leave LeBron? [James]? Why did you leave Jayson? [Tatum]? Why did you leave KD? [Kevin Durant]? Why did you leave all these people?'»
Irving also noted that the other «21 hours every day» outside of games should be considered. He also said «bitter older men and women» were responsible for portraying him as a «cancer» when there are 15 players on an NBA team.
In July 2017, ESPN's Stephen A. Smith reported that Irving no longer wanted to play for the Cavaliers because he disliked feeling «like he's the kid and LeBron is the dad or big brother he's supposed to look up to.»
JAKE PAUL FLEES ALTERCATION WITH FLOYD MAYWEATHER AFTER HEAT GAME
During Forbes' Under 30 Summit in 2018, Irving mentioned that, at one point in his life, he believed in conspiracy theories. He previously also stated that the earth was flat, but later apologized for those comments.
In October 2018, when Irving was in Boston, he promised to sign an extension with the Celtics, but eventually changed his mind a few months later.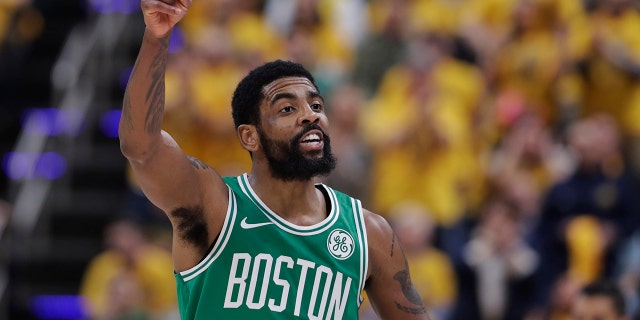 In a May 2019 report by Stadium's Jeff Goodman, an anonymous Celtics player said Irving was «difficult to play with» because he makes everything «about him.»
Irving did not speak to the media during most of Brooklyn's home games during the 2021-22 season amid his controversial decision to decline the COVID-19 vaccine.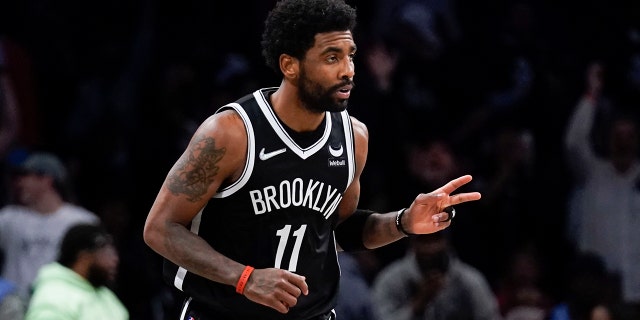 On February 3, Irving requested a trade to the Nets after he turned down a contract extension. A few days later, he was optioned to the Mavericks.
The Nets received Spencer Dinwiddie, Dorian Finney-Smith, a 2027 second-round pick, an unprotected 2029 first-round pick and a 2029 second-round pick in exchange for Irving and Markieff Morris.
CLICK HERE TO GET THE FOX NEWS APP
Irving has teamed up with superstar Luka Dončić in Dallas. The Mavs have won three of the nine games the two have played in. Dončić and Irving combined for 82 points in a win over the 76ers last week.
Dončić and Irving became the first duo in franchise history to score at least 40 points in the same game. In his 11 starts for the Mavs, Irving is averaging 27.5 points and 6.6 assists.