SANTOS, Brazil — Pelé was laid to rest in his final resting place Tuesday as millions of fans in Brazil and around the world mourned the sports legend.
Newly inaugurated president Luiz Inácio Lula da Silva paid his respects at Vila Belmiro, the stadium where Pelé played most of his career.
Pelé was being buried in the city where he grew up, became famous and helped make it a world capital of his sport. A mass was held at the Vila Belmiro stadium before the black coffin was driven through the streets of the city of Santos in a fire truck.
He was taken to the cemetery while the bands played the official song of Santos' team and a Catholic hymn. Before the gold-wrapped coffin arrived, the audience sang samba songs that Pelé had liked.
Some of Pelé's sports legends were not there.
«Where is Ronaldo Nazario? Where is Kaká, where is Neymar? asked Claudionor Alves, 67, who works in a bakery next to the stadium. "Do you think they will be remembered like Pelé will be? These guys didn't want to stop their vacation, that's the problem.»
Another notable absentee was Jair Bolsonaro, whose term as president ended on December 31. A day earlier, he had left the capital, Brasília, on a flight to Florida, shirking the ceremonial duty of passing the presidential sash to Lula. Bolsonaro is staying at a condominium complex on the outskirts of Orlando and has been filmed talking to neighbors.
Geovana Sarmento, 17, waited in line for three hours to see her resting body. She arrived with her father, who was wearing a Brazil jersey with Pele's name on it.
"I am not from Santos, neither is my father. But this guy invented the Brazil team. He made Santos stronger, he made him great, how can we not respect him? He is one of the best people ever, we needed to honor him," he said.
Caio Zalke, 35, an engineer, wore a Brazil jersey as he waited in line. "Pelé is the most important Brazilian of all time. He made the sport important for Brazil and he made Brazil important to the world," he said.
In the 1960s and 1970s, Pelé was perhaps the most famous athlete in the world. He met presidents and queens, and a civil war was called off in Nigeria to watch him play. Many Brazilians credit him with putting the country on the world stage for the first time.
Rows of Pele's number 10 jerseys were hung behind one of the goals, billowing in the city's summer winds. A section of the stands was filled with bouquets of flowers placed by mourners and sent by clubs and star players, including Neymar and Ronaldo, from all over the world while the loudspeakers played a song called "Eu sou Pelé" ("I am Pelé "). ) that the Brazilian himself recorded.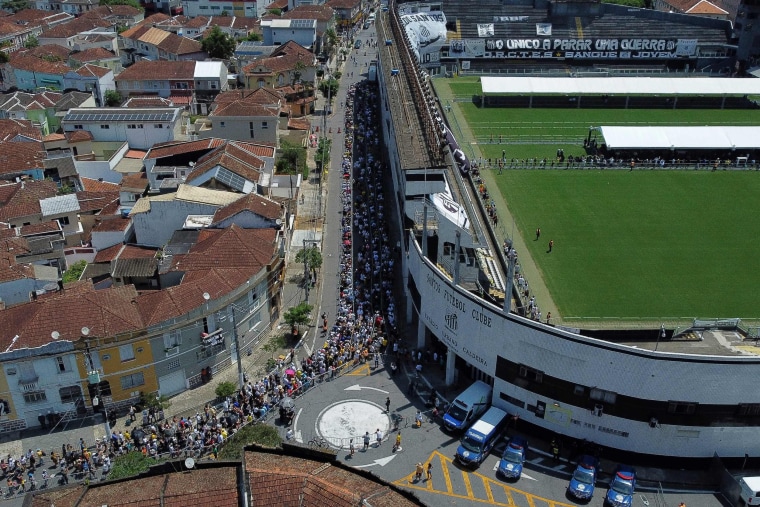 The crowd was mostly local, though some came from far away. Many mourners were too young to have seen Pelé play. The mood was light as people filtered from the stadium to the local bars wearing Santos FC and Brazil jerseys.
Claudio Carrança, 32, a salesman, said: "I never saw him play, but loving Pelé is a tradition that goes from father to son in Santos. I got to know his story, I saw his goals and I see how Santos FC is important because he is important. I know that some Santos fans have children supporting other teams. But that's only because they never saw Pelé in action. If they had, they would feel this gratitude that I feel now.»
Among those present at the stadium was Pelé's best friend, Manoel María, also a former Santos player.
"If I had all the wealth in the world, I could never repay what this man did for me and my family," Maria said. "He was such a great man as a player; The best of all time. His legacy will outlive us all. And you can see that in this long line with people of all ages here.»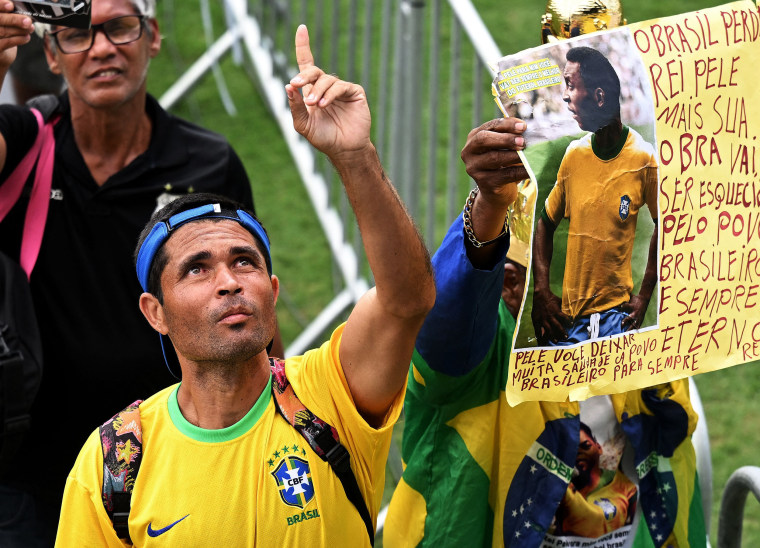 FIFA president Gianni Infantino told reporters that all countries should name a stadium after Pelé.
«I am here with a lot of emotion, sadness, but also with a smile because he gave us so many smiles,» said Infantino. «As FIFA, we will pay tribute to the 'King' and ask the entire world to observe a minute of silence.»
Another fan and friend in line was Brazilian Supreme Court Justice Gilmar Mendes.
"It is a very sad moment, but now we are seeing the true meaning of this legendary player for our country," Mendes told reporters. "My office has shirts signed by Pelé, a photo of him as a goalkeeper, also signed by him. DVD, photos, a great collection of him."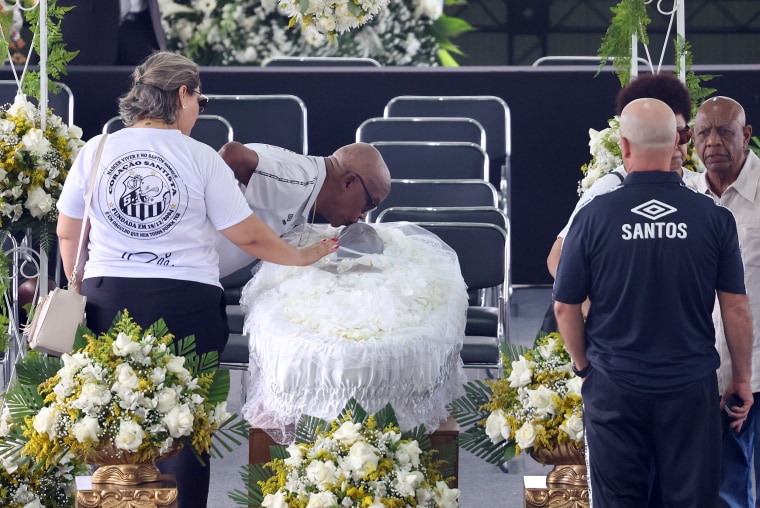 Pelé had been undergoing treatment for colon cancer since 2021. The medical center where he had been hospitalized said he died of multiple organ failure as a result of the cancer.
Pelé led Brazil to World Cup titles in 1958, 1962 and 1970 and remains one of the team's all-time top scorers with 77 goals. Neymar tied Pele's record during this year's World Cup in Qatar.